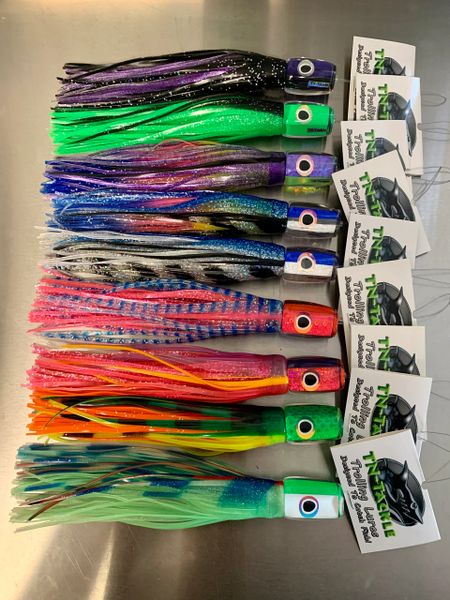 Small Punisher
The Small Punisher may be our smallest lure, but it has been one of the most productive.  This lure has seen it all, tuna, tons of mahi, wahoo, sailfish, white marlin, and blue marlin.  This lure runs with an active running cycle that drives pelagics crazy.  From the flats of the bahamas to the canyons of the northeast and off the pacific coast, this lure is a constant producer of big fish!  Running this lure from the rigger will make this lure shine.  
Small Punisher
Cupped Face Lure
100% Made in the USA
8.5"
2.7oz
Premium Lure Skirts Made In The USA
Available with optional Wings
Replacement Skirt size: O3

Rigging and lure bags are additional options*
Running Positions:
All Positions

All Tinted color heads are UV reflective!
Our UV Lures reflect the full UV light spectrum.  UV light is light that is not seen to humans without the aide of a UV light, but many species of fish see it naturally.  Some pioneers in the industry correlate UV colors in baitfish with healthy fish, and as a fish dies it gives off less UV.  After a season of testing we have seen great results with UV in our lures and feel it has a permanent place in every spread!