Fluorocarbon Specialty Rigs for Artificial baits/Split Bill Ballyhoo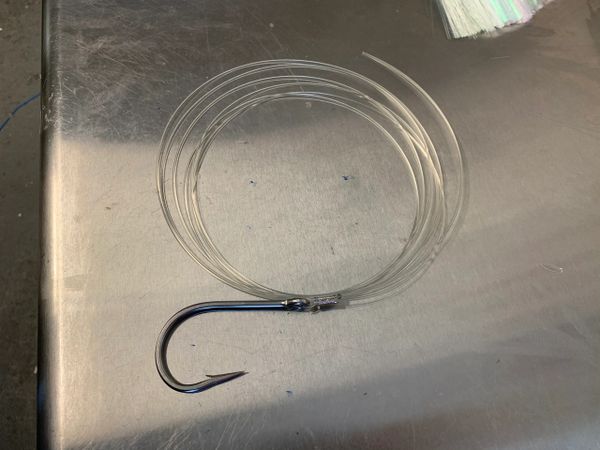 Fluorocarbon Specialty Rigs for Artificial baits/Split Bill Ballyhoo
These Specialty Rigs were designed for the most demanding anglers who want to maximize their bites.  A split bill ballyhoo has been one of the best ways to hook up on a finicky bite, especially when the fleets pressure fish deep.  If you are targeting bigeye tuna or bigger bluefin tuna, these are a MUST.  Our artificial tail rigs are ideal for rigging an 8"-10" plastic tail.  Artificial tails have become very common in the northeast and these rigs are tested and true.  
Pack of 1

- 10' Fluorocarbon Leader
- 1/2oz floating egg sinker for split bill rigs, glow bead for artificial tail rigs 
- Stainless Steel Southern Tuna Hook
- Comes with extra crimps to allow use on your choice of lure.
*These rigs require monel or copper rigging wire for rigging, not included
9/0 is ideal for medium, select ballyhoo as well as for artificial tails
10/0 is perfect for horse ballyhoo