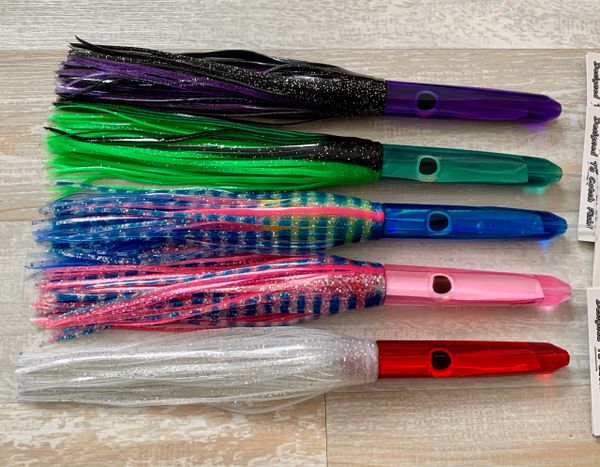 Stick Bait
The Stick bait is a unique lure with its long skinny profile.  This bait is perfect for when fish are feeding on smaller baits, or baits with a thin profile.  This lure is a producer in all sea positions and can be pulled from any position in your spread.  These thin baits will draw the attention of any size tuna, wahoo and mahi your spread comes across.  For the northeast anglers, these are the perfect midshore bait, they will also excel in the canyons when baits are small.  These are also great for guys targeting mahi in areas where wahoo are present.  Try one in your spread today!      
Stickbait - Skirted                                                                        
Bullet Lure                                                                                                                                                   
11" Skirted /10" Feather                                                                                      
4.5oz Skirted / 4oz Feather                                                                                 
Premium Lure Skirts Made In The USA
Replacement Skirt size: O3
Running Positions:  All Positions
Rigging and Lure Bags are optional*

All Tinted color heads are UV reflective!
Our UV Lures reflect the full UV light spectrum.  UV light is light that is not seen to humans without the aide of a UV light, but many species of fish see it naturally.  Some pioneers in the industry correlate UV colors in baitfish with healthy fish, and as a fish dies it gives off less UV.  After a season of testing we have seen great results with UV in our lures and feel it has a permanent place in every spread!