Northeast Trolling Spread 2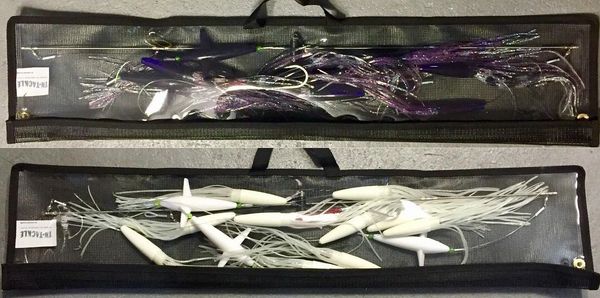 Northeast Trolling Spread 2
Northeast Tuna Spread
If you are headed offshore to target tuna in the northeast, you will need a variety if lures to have a successful day.  Spreader bars, daisy chains and ballyhoo lures are very productive staples in any tuna spread. This spread covers your basics but also gives you options to switch out lures in the spread on slower days to target mahi or marlin for someone who may not be well versed in targeting these other species.  
(2) 36" Tuna Machine Splash Bars
(2) Tuna Machine Splash Chains
(2) 2oz HooHeads (Blue Head - Blue/Crystal & Pink Head - Pink/Crystal)

(2) 4.5oz HooHeads (Red Head - Crystal and Purple Head - Black/Purple)
(2) Small Punishers Rigged on 200lb mono 8/0 SS Hook (Green Mack over Orange and Blue Mack over White)
(1) Medium Punisher Rigged on 250ln mono 9/0 SS Hook (Pink Head - Blue Stripe over Pink)
(2) Stickbaits rigged on 200lb mono 8/0 SS Hook (Green Rainbow and Hawaiian Punch)

HooHeads will be rigged on our recommended rigging of 130lb mono with a 1/2oz chin weight.