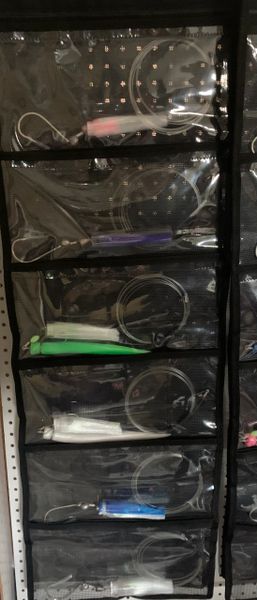 HooHead 6 Lure Pack
HooHead Lure Packs are the great way to add a variety of trolling lures into your spread that are proven.  These lures are the hottest colors to help you build a proper spread, no matter what your target species is and where you fish.  Prerigged on premium rigging and ready to be fished! 
Color options listed below.
- (2) 2oz HooHead Lures Ballyhoo Pin Rigged
- (2) 3oz HooHead Lures Artificial Tail Rigged
- (2) 4.5oz HooHead Lures Ballyhoo Pin Rigged
All Lures are rigged on 10' of 150lb Fluorocarbon leader and crimped with our 2x strong Nickel Plated Copper Crimps.  Pin Rigs come with a chin weight and bait spring for easy rigging.  All Rigs use a 9/0 Stainless Southern Tuna Hook and come with a 200lb Pro Swivel which will allow for easy attachment and the ability to be wound directly onto windon or big foot roller guides.  Lures come in a Premium 6 pocket roll up lure bag for easy storage and carrying.  
Color Pack A includes:
2oz Pink Head - Crystal
2oz Purple Head - Black Purple
3oz Diamond Series Chartreuse to Green Head - Crystal with Green Tail
3oz Glow White Head - Crystal with White Tail
4.5oz Blue Head - Blue/Crystal
4.5oz Diamond Series Red Head - Crystal
Color Pack B includes:
2oz Glow White Head - Crystal
2oz Diamond Series Red Head - Crystal
3oz Blue Head - Crystal with Blue Tail
3oz Pink Head - Pink/Crystal with Pink Tail
4.5oz Diamond Series Chartreuse to Green Head - Crystal
4.5oz Purple Head - Black/Purple